Improved Medicare For All: Better Care at a Lower Cost for Seniors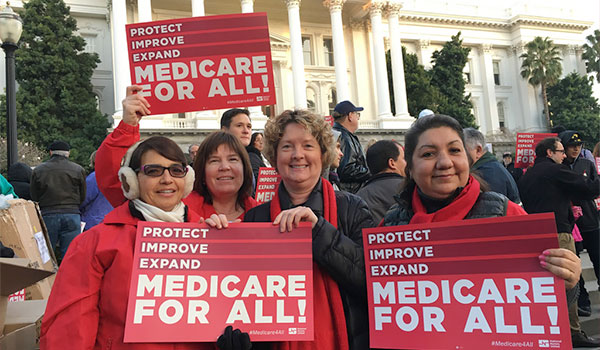 Medicare is a very popular program, far more so than for-profit insurance. It's also highly effective – the senior poverty rate has dropped dramatically since it was created. But it is not perfect, which is why we must improve and expand the existing system. We must add vision, dental and hearing coverage. We must get rid of out-of-pocket expenses.
And we have two bills that would do just that. Both bills are commonly referred to as Medicare for All, but should be known as Improved Medicare for All.
Improved Medicare for All would mean guaranteed, high-quality health care for every single American. It would benefit people of all ages. Seniors who are currently enrolled in Medicare would be some of the biggest beneficiaries.
Currently, Medicare includes co-pays and deductibles. The cost of prescription drugs for seniors is skyrocketing. Out-of-pocket health care costs are projected to consume half of the average Social Security check by 2033. Medicare for All would eliminate co-pays and deductibles, and dramatically lower prescription drug costs by taking on big pharma's greed. No longer would seniors be forced to turn over a huge chunk of their hard-earned Social Security benefits to pharma CEOs and for-profit hospital executives.
Medicare for All would also improve Medicare's benefits. The current program does not cover several essential forms of health care, including dental, vision, and hearing. This forces seniors to purchase expensive "Medigap" policies or, if they can't afford one, to live a far worse quality of life without glasses, hearing aids, and cavity fillings. Medicare for All recognizes that seniors have ears, eyes, and teeth. It covers all required care and eliminates the need for Medigap plans.
Medicare for All would mean better care at a lower cost for seniors. Yet Republicans are shamelessly scaremongering, claiming the exact opposite. Why? Because they are terrified. For decades, they have been trying to destroy Medicare by turning it into an inadequate voucher program. Thus far, they have failed to do so, because Medicare is too politically popular. Yet they continue to try, using cynical divide and conquer tactics.
If Medicare for All becomes a reality, the Republicans will no longer be able to divide and conquer. It will be even more popular than current Medicare. Unlike our current health care system, which is designed to maximize profits for shareholders and CEOs at the expense of patients, it will prioritize high-quality care. That will be a huge win for the American people, and a huge disaster for Republican politicians and their donors.
Faced with the increasing momentum behind Medicare for All, the Republican Party, led by Donald Trump, is responding with lie after lie. They will not succeed, as long as all of us come together to fight back and tell the truth about Medicare for All.